This page explains how to delete trade history that have been uploaded previously.
* The data will be completely deleted from the server and cannot be restored.
Even if you decide to re-upload the trade history after you deleted it, you may be asked to upgrade your subscription plan if the number of transactions exceeds the maximum number for your plan for any fiscal year.
■How to delete
Click the trash icon on the left of "Add transactions".

You can delete trade history based on the category and the fiscal year. Select the category you want to delete or the fiscal year. You can also combine the category and the fiscal year to specify the trade history you want to delete.
For example, if you select "API Binance/Distributions" from the category list and select "2021", any Distribution history for the fiscal year 2021 which were uploaded via Binance API will be deleted.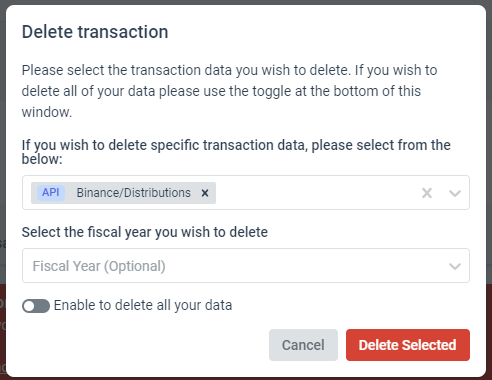 ■How to delete all trade history
Click the trash icon, click "Enable to delete all your data", and click "Delete All Data".