This article explains what information is available on the Transactions screen and how to look at the screen.
1. Transactions screen
▼ Uploaded transaction history is displayed in chronological order.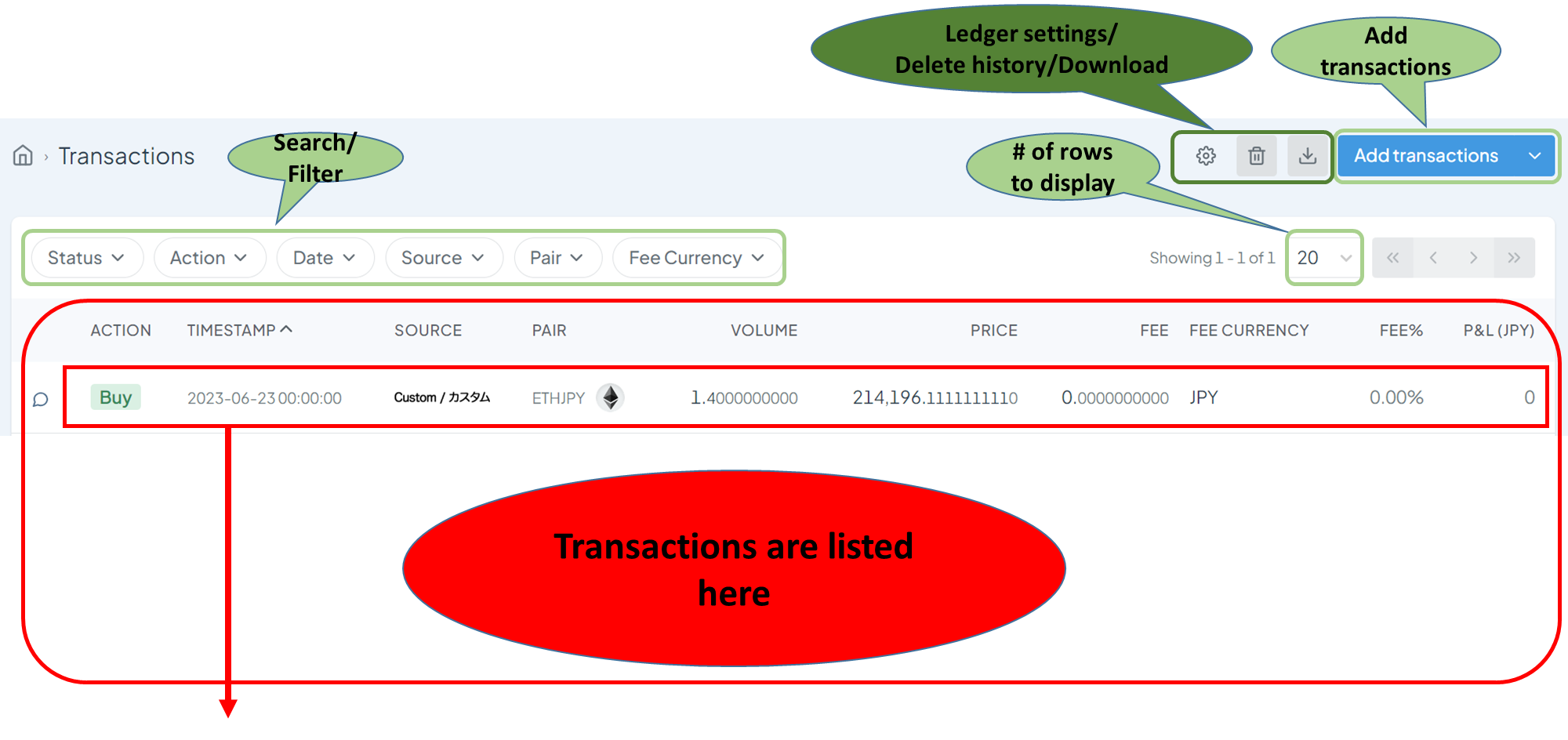 You can click on each transaction to view the transaction detail.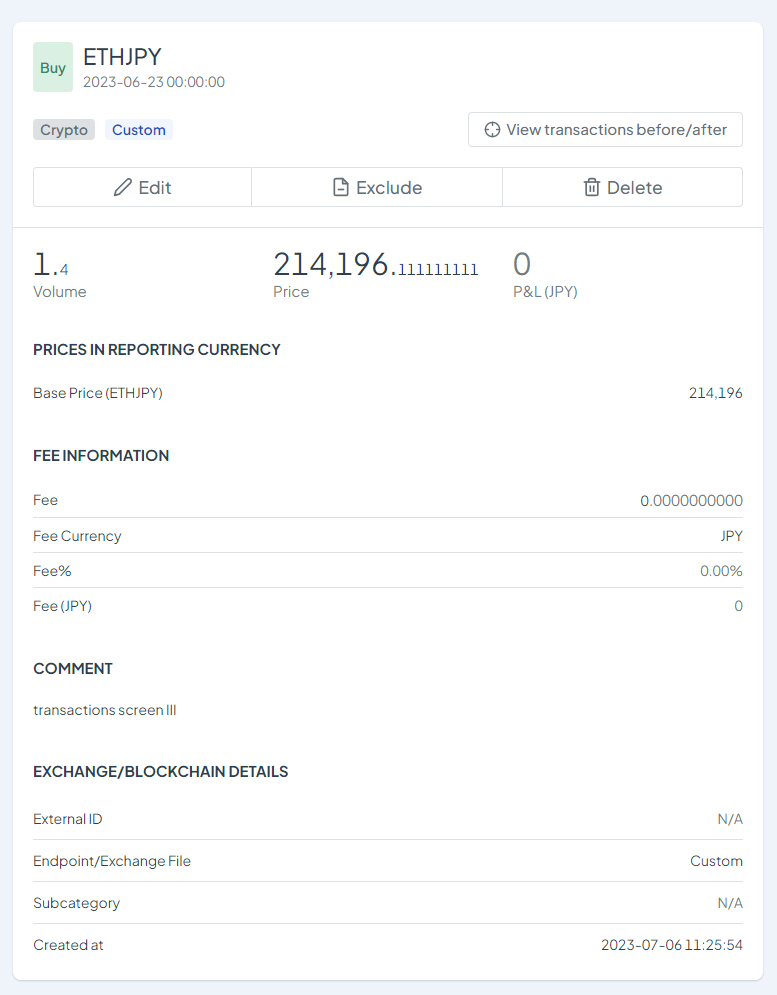 2. What each column means

①ACTION: It indicates the transaction type such as BUY, SELL, BONUS, STAKING, etc.
②TIMESTAMP: It indicates the date and time when the transaction occurred.
③SOURCE: It indicates the exchange, etc. *if manually added or uploaded via a custom file, then this column shows whatever value was provided as the SOURCE.
④PAIR: It indicates the currency pair traded. For example, if you bought BTC and settled the trade in ETH (paid in), it shows as "BTCETH". If you bought BTC and paid for it in JPY, it shows as "BTCJPY". The first part of the currency pair is called the "Base" currency and the second part is the "Settlement" currency.

⑤VOLUME: It indicates the amount of base currency traded. For example, if you bought 0.5BTC for 10ETC, then this column shows 0.5.
⑥PRICE: It indicates the price of 1 base coin. It can be calculated as settlement currency amount / base currency amount. For example, if you bought 0.5BTC for 10ETH, then this column shows 20 (10ETH / 0.5BTC).
⑦FEE/FEE CURRENCY/FEE %: They are the fee related information.
⑧P&L: It indicates how much profit/loss this transaction generated. Profits are prefixed by "+" and losses by "-".
■ Transactions that are highlighted in colours
| | | | |
| --- | --- | --- | --- |
| COLOUR | WHAT THIS INDICATES | EXAMPLES | NEED TO BE FIXED? |
| RED | Invalid transaction | Over-sell, price not available, unsupported currency, etc. | YES. Please fix the invalid transaction. |
| YELLOW | Auto-adjusted transaction | DeFi token transactions, zero amount transactions, etc. | NO |
| BLUE | Additional info available | Manually added/edited transactions, "Excluded" transactions, auto-generated transactions, etc. | NO |
* If more than one colour is applicable, the highest priority colour (RED > YELLOW > BLUE) is used.
. ■ Transactions with notification icons (displayed on the left-hand side of each applicable row)
| | | |
| --- | --- | --- |
| ICON | WHAT THIS INDICATES | NEED TO BE FIXED? |
| | It indicates that it is an invalid transaction. | YES. Please fix the invalid transaction. |
| | It indicates that it is an auto-adjusted trasaction. | NO |
| | It indicates that it is a transaction with additional information. | NO |
| | (DeFi only) It indicates that it is a DeFi transaction and comments on custom file. | NO |