This page explains how to get an API key for Bybit's transaction history.
The API key is valid only for 3 months if you follow the instructions below. Please renew your key every 3 months.
* API connection is supported for "Cash" SPOT and started for Deriv Trades March 10, 2022.
* Cryptact does not support automatic loading for Bybit's "Non-Cash" SPOT Trades (e.g. staking and launchpool) nor non-Derivative trades. Please upload them as custom trades.
If the transactions fetched via the API and the transactions in the downloaded file are different, we cannot determine which is more accurate. Please check the transaction details thoroughly after they are fetched via the API. If you find any missing transactions, please send us the downloaded file and the API details via the Support button at the bottom right. We will check the details.
■How to get API key
1. After logging in, click on the Person icon and select "API".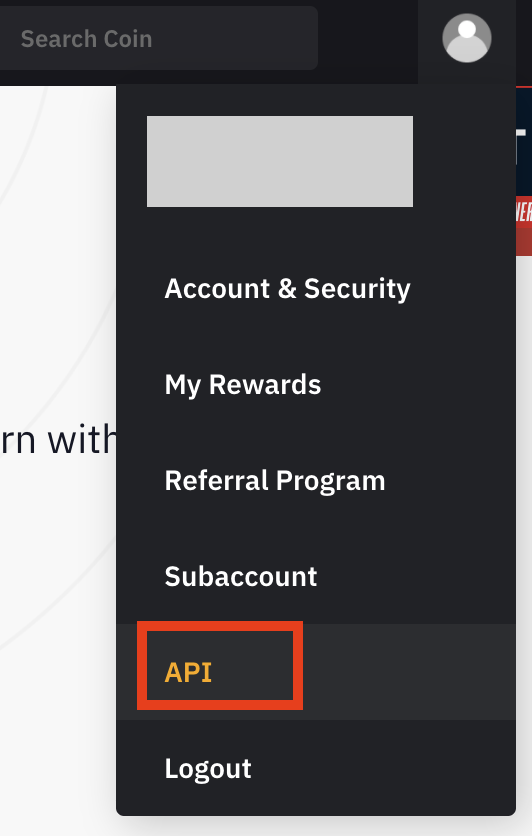 2. Click on "API Management" tab. In the "API Key" section, click "Create New Key".

3. In the next screen, do the following.
① Enter name (e.g. Cryptact).
② Select "Read-only".
③ For Contract, select "Positions"
④ For USDC Contracts, select "USDC Derivatives Trading"
⑤ For SPOT, select "Trade"
⑥ For "IP Access to API keys", click "All IPs"
⑦ Click "Submit"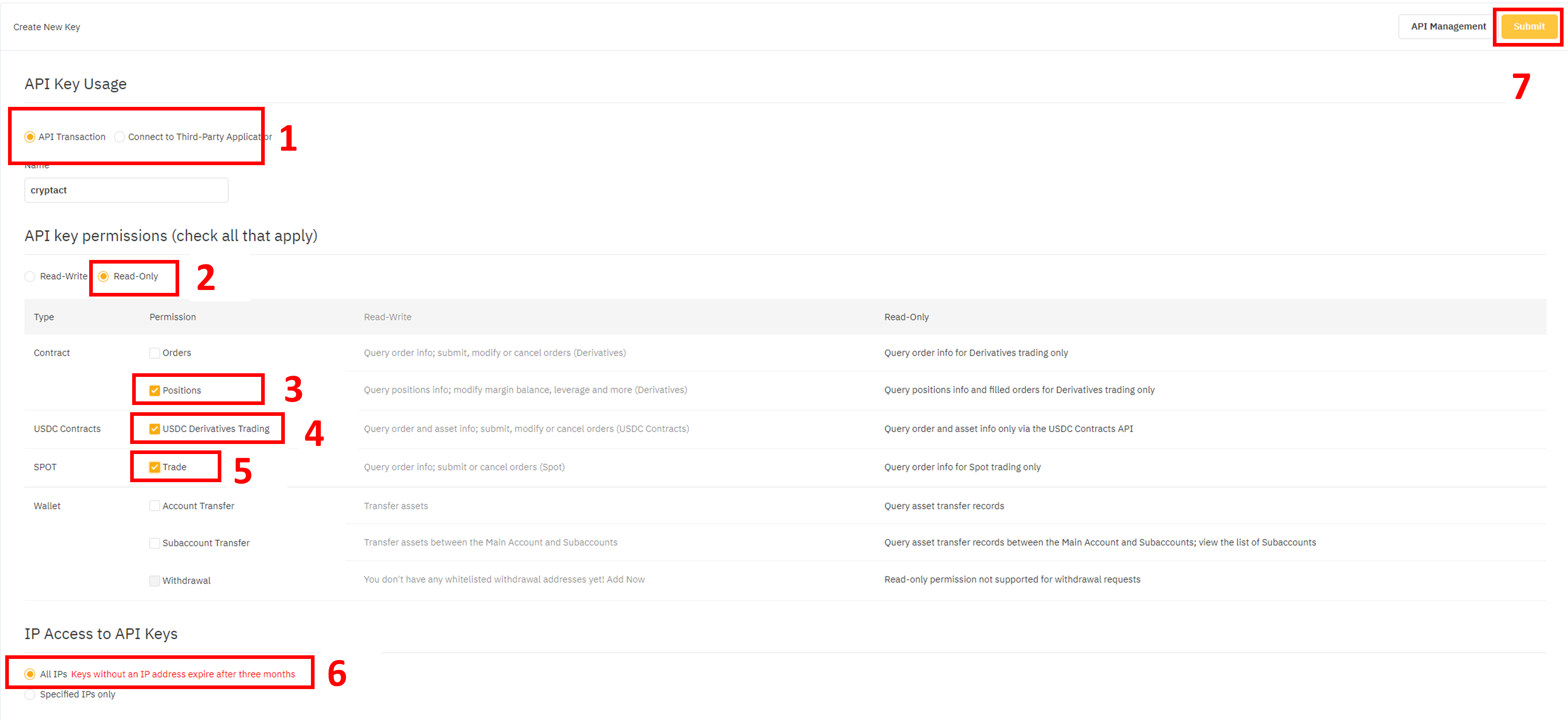 4. Fill out your 2FA code and click "Submit".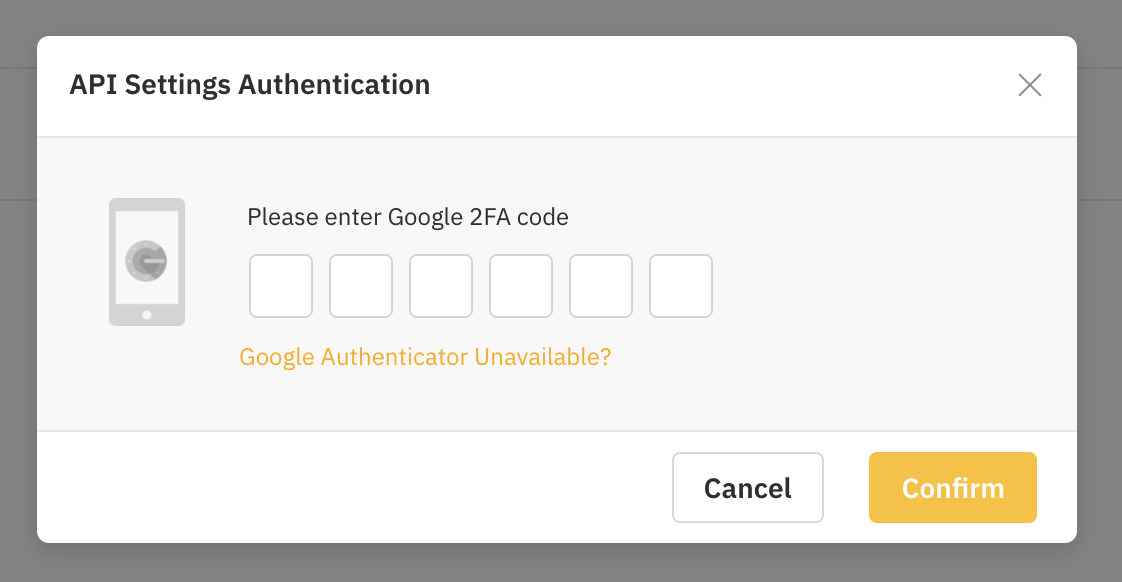 5 Generated API key and API secret will be displayed on the screen.
* The API key and API secret are displayed only once upon creation. Please copy them and keep them somewhere safe. If you miss this opportunity, you will have to create another API key.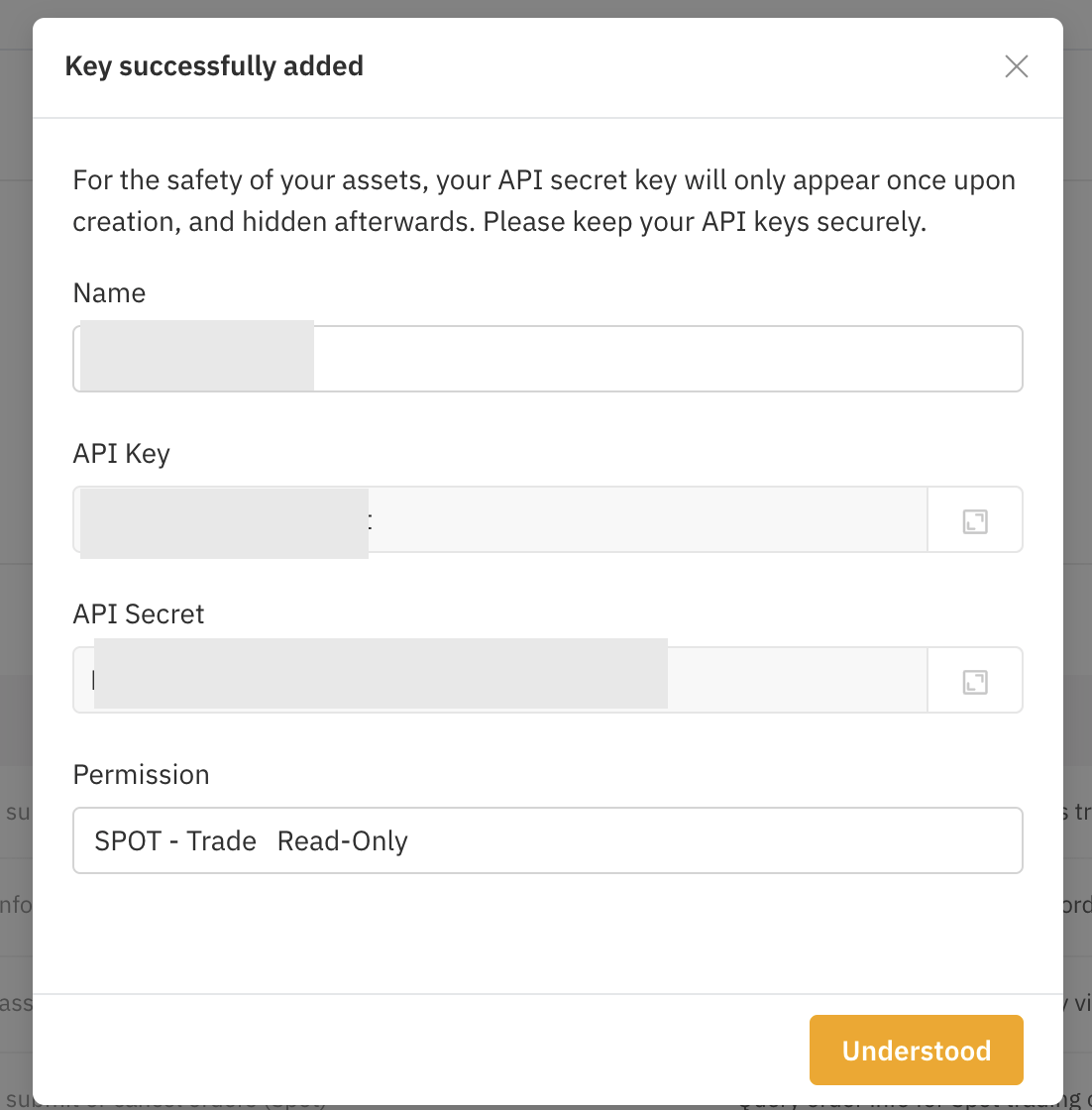 * For those who were using the API to fetch SPOT trade history before March 10, 2022
As of March 10, 2022, Deriv trade history can also be fetched via the API. If you wish to use the API to also fetch the Deriv trade history going forward, please take the following actions.
①Delete the existing API key
Delete the API listed on Connect to your Bybit account screen. Please remember the subaccount name you previously used for the API (in the below example, "test") before deleting it. If you added the API with an empty subaccount name, it would be displayed as blank.
* Deleting the API will not delete the trade history from your ledger.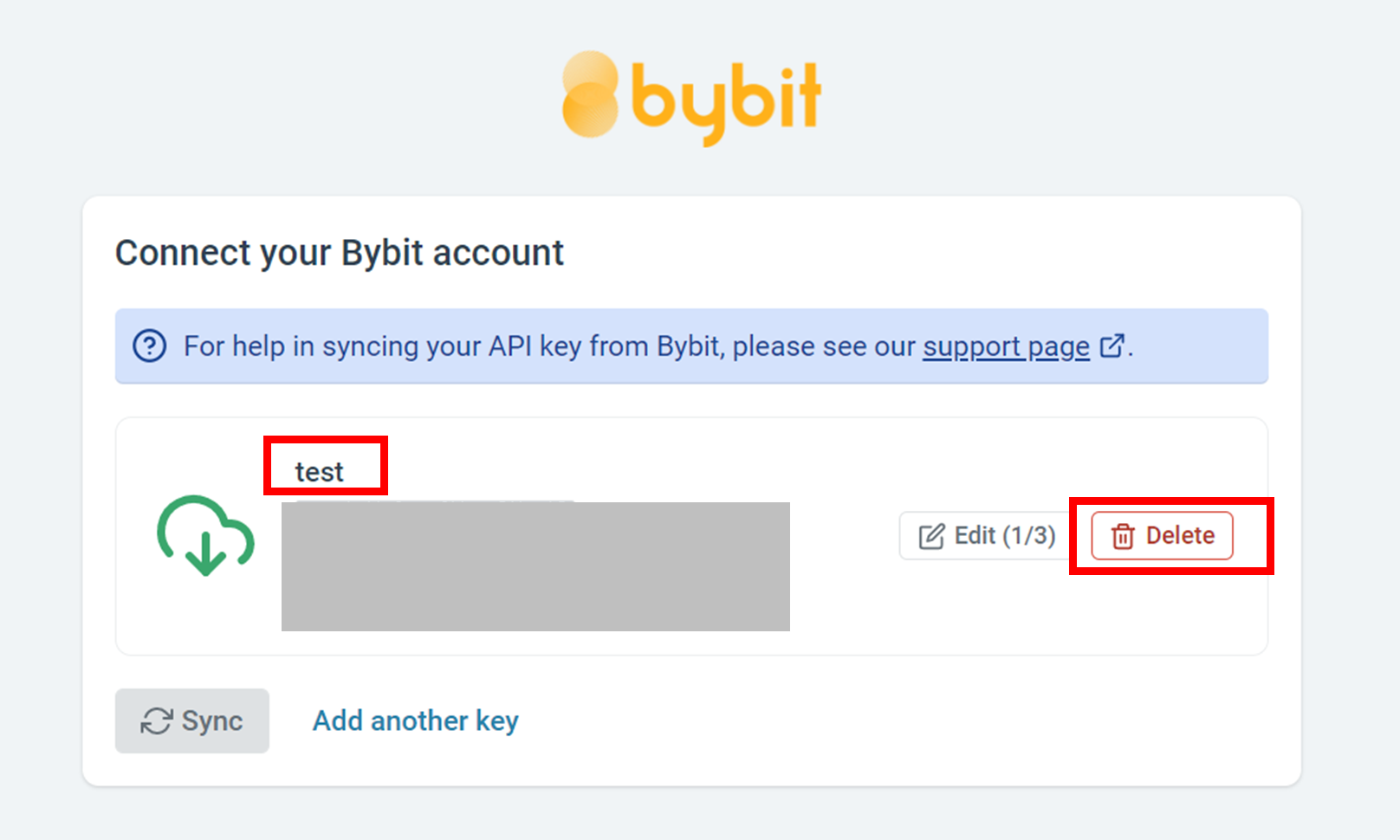 ②Get a new API that can fetch Deriv trade history also
Log in to Bybit and create a new API key with permission to fetch both SPOT and Derivatives history. For details on how to do this, please refer to here.
③Re-establish API connection
Connect to Bybit using the API key you have created in ②. Please use the same subaccount name you have previously used. If you did not use any subaccount name previously, you can just leave it blank. Please note that if you use a different subaccount name, you will end up with duplicate SPOT trade history.
If you have previously uploaded Deriv trade history using files downloaded from the exchange, Cryptact would look at the timestamp on the last transaction uploaded via the files and fetch any transactions after that via the API. For further details, please refer to here.
If there is any Deriv trade history previously uploaded via files, the datetime will be displayed on the screen. Please tick the checkbox before clicking "Submit".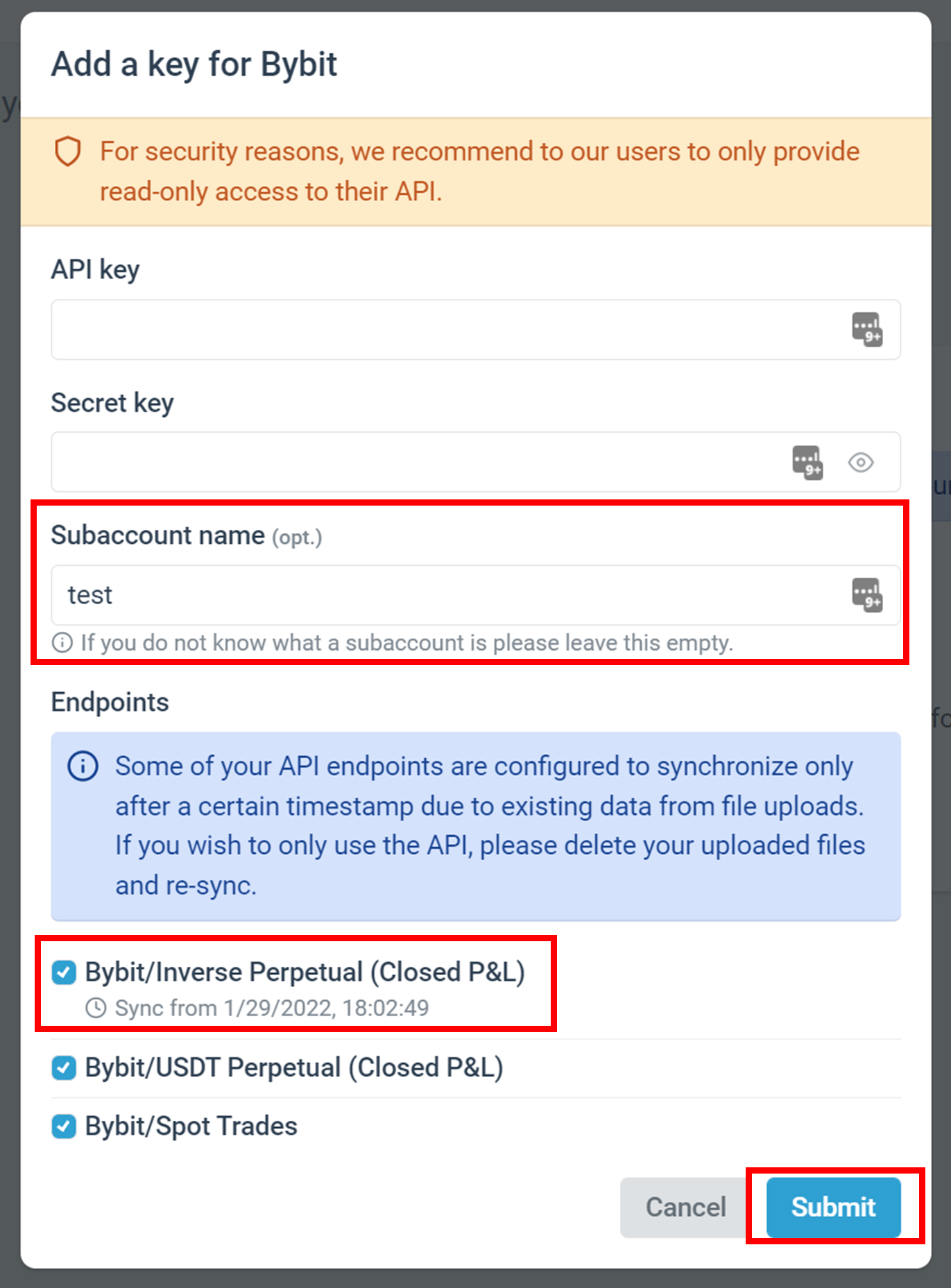 Connect via Bybit API
Add API connectivity to Bybit by entering the generated API key and secret via Connect to your exchanges
Disclaimer
Please note that we will not be held responsible for any damages caused by unauthorized use or other accidents due to API connections. When connecting, please be sure to use the API key specified by us.