This page explains how to get trade history from OKX (formerly OKEx).
* Currently, we only support spot trades, futures trades, margin trades, and swap trades as we don't have enough samples for other trade types.For trade types that are not supported, please upload them as custom trades.
* We stopped supporting trade history for classic accounts when OKEx was rebranded as OKX. Please upload them as custom trades.
*OKX only provides trade history within 3 months old. Please upload the trade history which is more than 3 months old as custom trades.
How to export trade history
1. Log in, click "Assets", and choose "Order center".

2. In the "Order center" tab, select "Trading account history", and click "Download".

3. Set Account Type to All, choose the period, and click "Export". When the status changes to Processing, and then to Ready after a few minutes, click the "Download" button next to it.
* Please note that you can only download OKX trade history for the past three months. You need to download trade history every three months to have the complete annual trade history.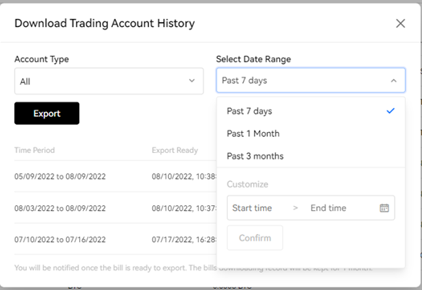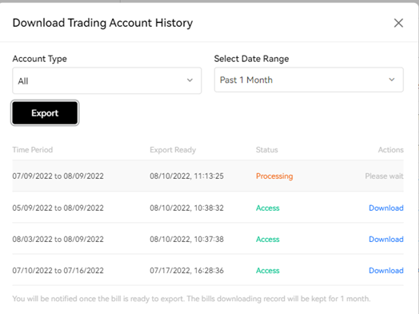 Please note:
The download file is a zipped file.
Please unzip it before uploading it to Cryptact.
Reference for Windows users
Please install 7-Zip, and follow the below steps to unzip the file.
「7-Zip」https://sevenzip.osdn.jp/download.html

1) Right-click the file you want to unzip, and select "7-Zip" from the menu.
2) When the 7-ZIP menu appears, click "Extract files…" option.
3) Check which folder the unzipped file will be placed. If you want to the unzipped file to be placed in a different folder, click the "" button beside the "Extract to" field.
4) Click "OK".
How to upload OKX (formerly OKEx) trade history
After downloading the trade history from OKX, please upload it here.
If a file upload results in an error…
The following may be the cause:
・The file format is incorrect.
Please refer to the above to unzip the file and upload it again.