Thank you for choosing Cryptact! Please follow the steps below to proceed.
1. User registration
Please use this link to create a new user account.
Note that full support is only provided for Chrome, Safari, and Firefox.
2. Preparing all of your transaction data
To accurately create your ledger, upload all your transaction data since the Bitcoin genesis block! (Jan 3, 2009)
Please follow the instructions here to download your transaction data from all of our supported exchanges. If an exchange that you use is not supported (details), you will be required to create a custom file with your missing transaction data.
Note: generally transfers (which are not transactions) between wallets and exchanges do not impact your profit & loss and do not need to be uploaded.
3. Upload your data
Upload all of your prepared files to our service!
4. Fix any invalid transactions you may have
Check your generated ledger to see if you have any invalid (red X's) transactions. All of these entries were not able to be calculated during the creation of your ledger and are automatically excluded. In order to build a fully valid ledger, you should find and correct all of these entries.
To find out how to correct your ledger, please go here for more details.
5. Check the number of coins ..and you're done!
After fixing invalid transactions, click "Summary" and check the number of coins.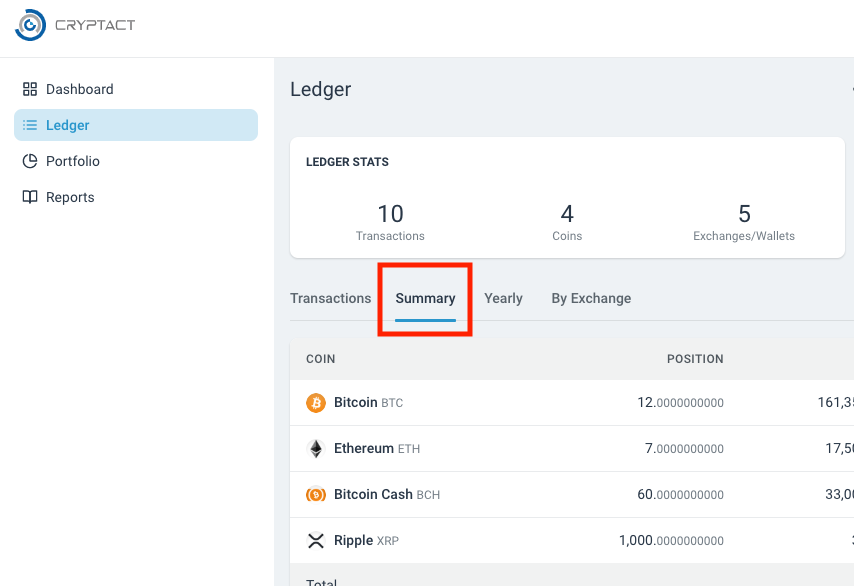 Your multi-year summary box will show you your profit & loss for the current year. You can view other tabs or individual ledger entries for more information. Visit out calculation details page for insight on how we calculate your ledger.
If you need more help...
Feel free to reach out to support@cryptact.com anytime you need further assistance.